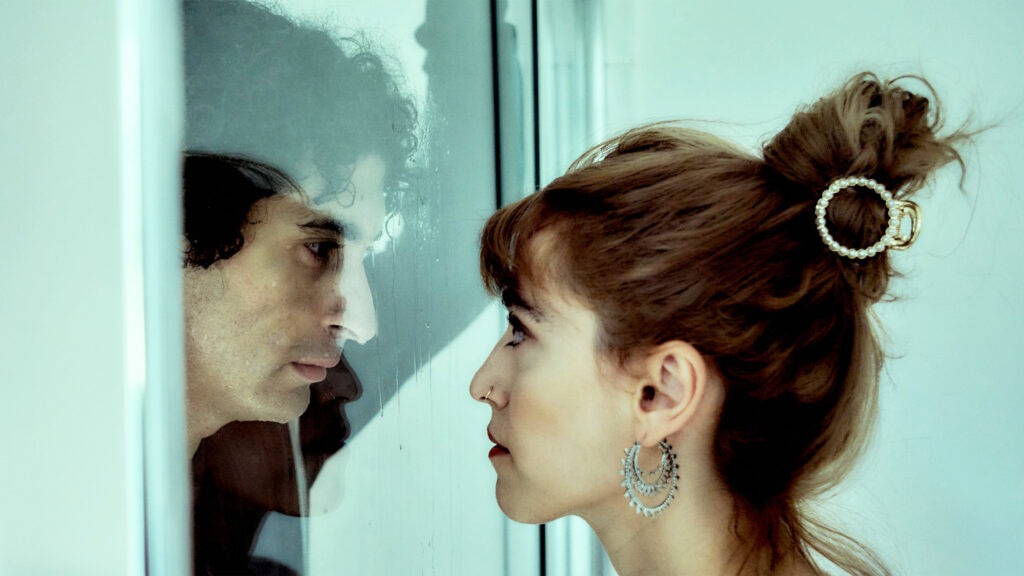 TENNESSINE, a new Australian feature film, is currently in production in
Sydney and regional New South Wales.
The film is directed by award-winning Australian-Iranian filmmaker Amin Palangi (Love Marriage in Kabul) and written by and starring AACTA Award winner Osamah Sami (Ali's Wedding).
TENNESSINE is a psychological drama following Arash (Osamah Sami), named after the Persian mythical archer, who against his family's wishes, arrives in Australia to reunite with the love of his life, the elusive Nazanin (emerging new talent Faezeh Alavi). While the couple is about to spend a romantic weekend in a cabin in the woods, the arrival of Nasser (AACTA-nominated actor Robert Rabiah), owner of the rural property, interrupts the idyllic reunion Arash had hoped for and raises doubts about his connection with Nazanin. Soon, Arash learns of deep harboured secrets, which leads him down a path of self-destructions.

Set against a background of migration, TENNESSINE portrays the effects of displacement and explores themes of family duty, belonging and love. Predominantly spoken in Persian, the film also tells the story of an entire generation of young people separated due to circumstances beyond their control, and the consequences of these events on their relationships and identities.

A collaborative and explorative work, TENNESSINE's independent production emerged from a buzzing, fertile loam of culturally diverse Australian creatives with shared grounds in migration, cinema and storytelling.

TENNESSINE is an original story by Amin Palangi and Osamah Sami, produced by Palangi Productions and newly established production house Breathless Films.

Amin Palangi is an Australian-Iranian award-winning filmmaker and significant contributor to the Australian Arts & Cultural diversity landscape with programs and projects in arts and in the screen industry in particular. His debut documentary, Love Marriage in Kabul, won the Audience Award at Sydney Film Festival, Best Director from the Australian Directors Guild and was finalist at Walkley Awards for Excellence in Journalism. His credits also include a number of short films and web series. Known for his intimate and captivating portrait of people in extreme circumstances, Amin received a Cine Award as a cinematographer for Afghanistan By Choice, directed by Sundance
and Emmy Award winner Alexandria Bombach. Amin directs the Persian Film Festival in Australia, is a lecturer at UNSW and was a member of Screen NSW Film and Television Industry Advisory Committee. Amin's current
projects include the production of TENNESSINE and the distribution of its proof-of-concept short film Break.
His second feature film project Common Ground, co-written with Eve Spence and currently in development, received development funding from Screen NSW, successfully entered the current Attagirl Program.
Osamah Sami is an award-winning actor, writer, and comedian, born in war-torn Iran to Iraqi parents. The Commonwealth of Australia recognised Osamah Sami as a Notable Australian Muslim, and his creative contribution to the screen industry has been acknowledged and acclaimed on numerous projects. Osamah co-wrote and starred in the hit Australian film Ali's Wedding, which won the Audience Award for Best Feature Film at Sydney Film Festival, as well as The Age Critics Prize for Best Australian Film, and the Cinéfest Oz Prize for Best Film. His screenplay earned him an Australian Academy (AACTA) Award, an Australian Writers Guild (AWGIE) Award, and a Film Critics
Circle of Australia (FCCA) Award for Best Screenplay. He also received AACTA Award, FCCA Award, and Australian Critics Choice Award nominations for Best Lead Actor. His critically acclaimed memoir Good Muslim Boy won the NSW Premier's Literary Award and Highly Commended at the Victorian Premier's Literary Awards, and was adapted for the stage in 2018 for Malthouse Theatre Co and Queensland Theatre, selling out both seasons. Finally, his work in Melbourne Theatre Company's I Call My Brothers earned him a Green Room Award nomination for Best Lead Actor on a Main Stage production. Osamah won the Creative Artist of the Year title at the Australian Muslim Achievement Awards (2019).

Ulysses Oliver has over 20 years experience in development of media productions, as the managing director and founder of Select Field. He founded and curated the Sandfly Film Festival taking international shorts to screens in Sydney and regional NSW and across the world with screenings in Paris, New York, LA and Bogata. He has managed complex production projects with large teams both in Australia and Internationally and has a proven record of
accomplishment in delivering successful multimedia solutions. In 2008 Ulysses completed a Diploma of Film at the Sydney Film School where he went to be an integral part of the Sydney Film School Advisory Board. Since then he
has been writing, directing and producing short films, music videos, documentaries and feature films. He produced the multi award-winning short film, Amanecer (2009) which has been selected for numerous international festivals and Australian short, and The Telegram Man (2011) starring Jack Thompson, which received an honourable mention at the Oscars. He wrote the feature film The Perfect Weapon (2016) starring Steven Seagal.
Ben Ferris is one of Australia's most respected experts in education for the screen and media sector, and is a passionate champion of the arts. He founded the UBS Film School at the University of Sydney in 2001, and the world-
renowned Sydney Film School in 2004, built around the core values of Courage, Curiosity and Compassion. As its Director for fourteen years he has produced 1000+ alumni who work in the film industry in more than 40 countries
worldwide, and 1000+ student short films that have been screened in hundreds of film festivals worldwide, including 20 Academy-Accredited festival screenings. Mr Ferris is also an internationally critically acclaimed film
producer in his own right, producing the feature films Three Blind Mice (2008), Penelope (2009), and the acclaimed documentaries 57 Lawson (2016), and In(di)visible (2020). He is a current board director of the Documentary Australia Foundation.

Palangi Productions was founded during the making of Love Marriage in Kabul out of a belief in the transformative
power of screen stories and a desire for creation of culturally diverse content that invite a wide audience to experience and explore unspoken issues and narratives. Other credits include Break, Seeing the Elephant and the current production of second feature film TENNESSINE. www.palangi.com.au
Responding to a lack of support for independent and emerging filmmakers in Australia, Breathless Films is establishing a sustainable film production ecosystem as a platform for a new wave of micro-budget feature films. It is Breathless Films' aim to support, unashamedly, contemporary film auteurs who are telling bold and uncompromising Australian stories. breathlessfilms.com.au